"Welcome to the corporate world. It sucks. You're gonna love it!"
As you may have noticed from my excitement in the last blog, I was quite pumped up to get started. So after a few weeks, all of us interns connected informally with each other and had a call. And believe me, it was such a sense of relief to see some familiar faces there as well 😌.
June 28th, 2021, our first official call with Hari, the CTO and co-founder, was a brief introductory session including, which team we were supposed to be in, who was going to be our manager, the tech stack which we would be working on etc.
Note: HackerRank's backend infrastructure is constructed using Ruby on Rails, and its front end primarily utilizes React, with plans to integrate NextJS as well.
For the next couple of weeks, I was dedicated to gain a thorough understanding of React, with guidance from talented individuals on Twitter, Danny Thompson and Ricky.
A few days prior to starting our new job, we received our onboarding kit and it was one of the most memorable moments I've ever had. My parents were incredibly proud, and I finally got my paws on my first Apple product 😍.
Could life BE any sweeter...?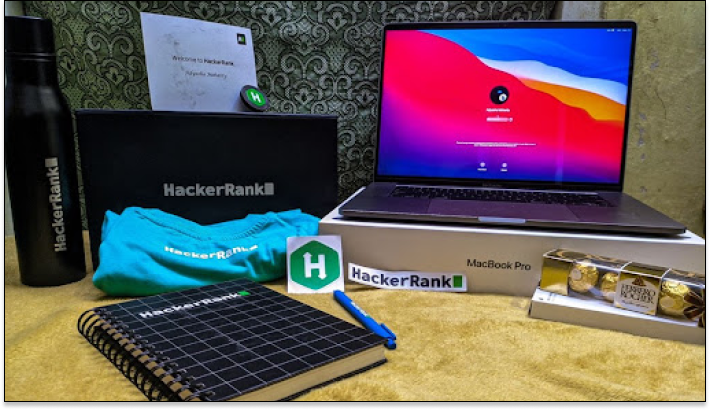 Ok, you'll see the box of chocolates in the picture, right? Yeah, don't even think about it 🙅🏻‍♀️! ADYASHA DOESN'T SHARE CHOCOLATES!
At last, the moment we eagerly anticipated arrived - the onboarding call where Vassavi explained the company's history and journey. Here is a quick sneak peek 👀:
And with the assistance of our IT guru Kartik, we were able to conjure up our laptops and snag all the resources we required. During this time, we also got a quick glimpse at our office.
On the same day, I was overjoyed to meet all my team members and to learn that my manager and mentor is none other than Hari. Also, I was thrilled to find out about the project I will be working on 😎.
Later in the evening, I joined a call with my entire team and the CEO of HackerRank, Vivek Ravisankar. During the call, we discussed the project and its plans, future goals, customer approach, team greetings, the primary target, and various brainstorming ideas for success.
As a fresh-faced intern, I learnt that I can fire off questions to anyone in the company. Who knew that asking questions would be a breeze in this big-league company with its super-friendly and all-embracing culture? It's a real hoot!
To sum it up, I'd say that the first day was a blast 🥳!
The Manager? Good
The Team? Good
And the Hackerrank Culture? GOOD!
And then the company had a week-long holiday to celebrate its Q2 milestones 🥂.
"It's time to buckle down. Make a choice. Pick a direction. And get to work."
During that period, I initiated communication with my mentors, established my local environment, devoted some time to become familiar with the existing code, and was fully prepared for the tasks that lay ahead…
Well, catch you on the flip side of the holiday! Keep your eyes peeled, because the next blog post is going to be a wild ride! 🎢
Feel free to connect on Twitter :D